EXECUTIVE DIRECTOR'S NOTE:
Tell your colleagues about Friends Center's
event and office space! 
It has been nice to see more of you around Friends Center recently! We have also had an uptick in in-person and hybrid events.
Friends Center is beginning to market our office and meeting space more actively this year than we have for the last three years. Of course, the best advertising is word of mouth. So, we would be grateful if you would let your nonprofit colleagues know that limited space is again available to rent here in our LEED-certified green building. Smaller organizations with peace and justice missions are especially welcome.
In addition, our meeting and conference spaces are fully open. Space is booked more frequently as more organizations return to in-person as well as hybrid meetings, which we also support. Nonprofits receive an automatic 20% discount.
Here are two links you could share:
Thank you, as always, for being part of the Friends Center community.
—Chris Mohr, Executive Director
AROUND FRIENDS CENTER
News from Friends Child Care Center
Friends Child Care Center has a 4-star rating in Pennsylvania's Quality Rating & Improvement System, which carries the responsibility for recognizing and supporting continuous quality improvement in early care programs throughout the state of Pennsylvania. Each year, FCCC targets an area for improvement, and this year we focused our efforts and resources into removing lead paint from window frames, doors, and finishings in the First Day School Room, where infant care will resume by March 1, 2023. Lead abatement is very costly and so we sought to find outside funding sources.
FCCC is pleased to share that the City of Philadelphia: Child Care Facilities Fund awarded $25,000 to the project, which helped to significantly defray costs. The mission of the Facilities Fund is to provide support to high-quality early childhood education programs located in Philadelphia for the maintenance and improvement of their facilities in order to maintain a high-level STAR rating.
FCCC is incredibly grateful for this financial support as we are dedicated to providing a safe, clean and nurturing learning environment where children can play to learn, learn to love.
EQUITY PARTNER NEWS
PHILADELPHIA YEARLY MEETING (PYM)
Electrical & Safety Upgrades in the Meetinghouse, Thanks to Yearly Meeting Support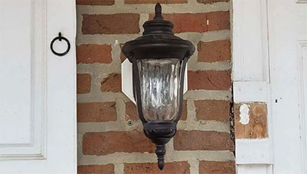 Cropwell Friends Meeting's infrastructure got a big upgrade this week. Thanks to a generous gift from the Philadelphia Yearly Meeting's Quaker Buildings & Programs Granting Group, the building's electrical system was rewired, and fire safety upgrades and security lighting were installed. The work was done by Front Line Electric of Glendora, N.J., who were prompt, professional, and courteous.
The Cropwell Friends Meetinghouse, built in 1809, was very much in need of work. The last known update to the electrical wiring took place in the 1920s. The type of wiring used at that time was "knob-and-tube," which does not have a ground system for safety. This doesn't necessarily make the wiring unsafe to use, but it does rule out important safety features and leaves appliances and sensitive electronics vulnerable to damage from power surges. Exterior lighting was also installed for safety and security purposes.
Stewardship & Community
The work on the meetinghouse spoke to the stewardship and community testimonies of Friends.
The current Cropwell Meetinghouse structure was built in 1809. It is on the historic registry, but like all old buildings, it has needs, and those needs have price tags. It is the Meeting's responsibility to be good stewards to maintain the structure for current and future members.
Cropwell has a small number who attend regularly, but there is cohesion and commitment which has increased in intensity over the past year, and there is an openness to increasing and strengthening that community. The Meeting has received letters requesting membership from four individuals within the last year and have received loving support from members within Haddonfield Quarter.
AMERICAN FRIENDS SERVICE COMMITTEE (AFSC)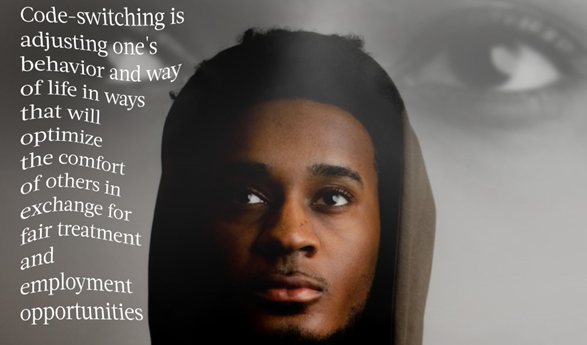 Code Switch with Joshua Slack
In honor of Black History Month, the AFSC Pan Valley Institute (PVI) is pleased to announce the returning and touring production of "CODE SWITCH," written and performed by ArteVism Alumnus Joshua Slack and directed by current Fellow Rodolfo Robles Cruz.

The ArteVism Fellowship program seeks to empower and foster civic engagement through artistic, creative expression, and collective leadership amongst the Central Valley's youth of color.

"Code Switch" is a monologue that explores the navigation of code-switching. Code-switching involves adjusting one's way of life in ways that optimize the comfort of others in exchange for fair treatment, quality service, and employment opportunities. The performance encourages audience members to ask themselves: At what cost to our lives do we make these adjustments? Why are we afraid to be ourselves?"
Joshua Slack was born into a military family; his mother served in the Coast Guard, and his father was a college professor. His life goal is to own a production company emphasizing TV, film, photography, theatre, and other art forms that express the uniqueness of niche storytelling within the Black community. He plans to offer it as a platform to tell the stories that mainstream media won't tell and to uplift the voices of his community.

We will be following COVID-19 safety protocols, ordinances, and regulations. Masks may be required according to local guidelines during the event.

February 25, 2023, 6:30-8:30 pm PT
Free event at the Fresno Art Museum, Bonner Auditorium 2233 N Fresno St. Fresno, CA

For more on this free event or the ArteVism fellowship program, please contact Rodolfo Robles Cruz at (559) 540-1028 or RRoblesCruz@AFSC.org.
CENTRAL PHILADELPHIA MONTHLY MEETING (CPMM)
Author Event:
CPMM member Pamela Haines will present
Tending Sacred Ground: Respectful Parenting.
Saturday, February 25, at 11 AM
Navigate through the sacred, the impossible, and the unexpected in these hard-won reflections on parenting. Tending Sacred Ground: Respectful Parenting is a series of essays, each of which alights on the experience of parenting and is inspired by a Quaker perspective. Pamela Haines shows how to cultivate respect, resilience, humility, connection, discernment, and joy while encouraging and inspiring a wider view toward inclusion.
Pamela has published widely on faith, money and economics, and on peace-building and right relationship. Please join us for a reading and discussion.
TENANT NEWS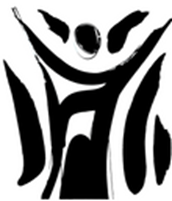 Winter Festival of Voices
This concert will feature contributions to the choral art from Black composers and poets. Featuring Singing City Choir, Teen Voices of the City Ensemble (T-VOCE), Hatboro Horsham Singers, Germantown Friends School Choir, and Northeast High School Choir. Celebrating youth from across the region!
Jeffrey Brillhart, conductor
Saturday, March 4, 2023, 7 p.m.
Philadelphia Episcopal Cathedral, 23 S. 38th Street, Philadelphia, PA
Stockton Rush Bartol Foundation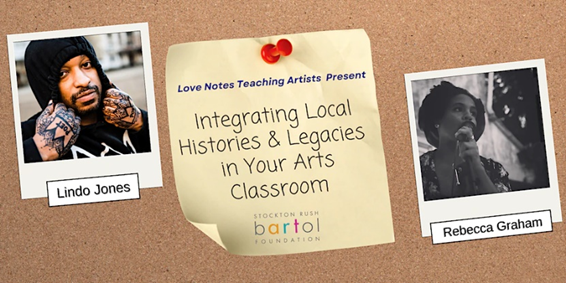 Integrating Local Histories & Legacies in your Arts Classroom
Do you want to connect to our rich Philadelphia artistic lineage? Looking to integrate history and research in your arts classrooms?
Led by Love Notes Project Teaching Artists Rebecca Graham and Lindo Jones, participants will engage in a music and poetry workshop that highlights the work of three Black Philadelphia artists and cultural producers, past and present. The intention is for participants to leave the space feeling more connected to our city's rich artistic lineage while gathering tools that may assist in your desire to integrate history and research in your arts classrooms.
Thu, February 23, 2023, 5:30 PM – 7:30 PM EST
Friends World Committee for Consultation
Section of the Americas Meeting

The Friends World Committee will hold its hybrid 2023 Section of the Americas Meeting on March 23 – 26 at Haw River State Park in Greensboro, NC. Registration for virtual attendance is available here. Scroll down to learn more and to register for the in-person event. All Friends are welcome! The last day for in-person registration is February 26, 2023, but register soon before options sell out!
Thu, March 23, 7 PM – Sun, March 26, noon
IN THE WIDER QUAKER WORLD
New Friends Historical Association Grants
The Friends Historical Association is pleased to offer funding to support contributions to the field of Quaker history. There are three grant opportunities: project support, publication subventions, and research funds. All opportunities run on the same cycle, and applications are due April 15, 2023.
Details about each opportunity and application instruction are provided at https://www.quakerhistory.org/grants.